MISSION UPDATES
Epic 360° view of Mars!
Curiosity has also just had its OS updated in time for the upcoming surface operations mission phase.
One of the more interesting shots from the weekend, shown below, depicts rocks revealed when the rockets that lowered the craft to the Martian surface blew away dust. NASA has quickly characterised the rocks as "clast", rock comprised of fragments of many different types of mineral. Clast can be sedimentary.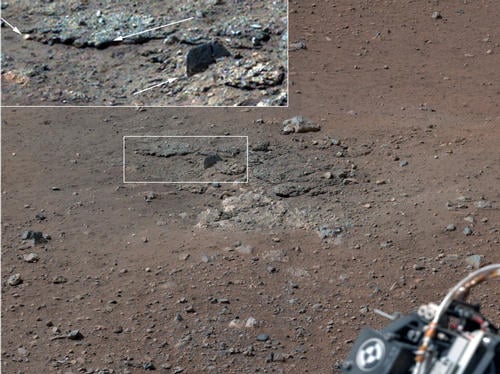 Curiosity has also sent home a rather fine panorama of the wall of Gale Crater. NASA says the series of valleys entering the crater, depicted below, are science's first view of a "fluvial system" formed with the aid of liquid water running across the planet's surface.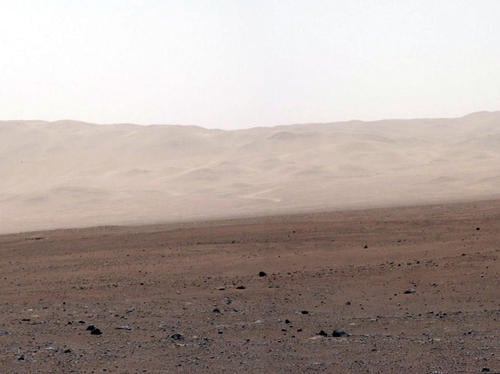 Source.
Update 1:
The Curiosity rover seems to be eagerly looking ahead at its eventual target, Mount Sharp, in this new color photo taken with the probe's Mast cameras.
Update 2:
Above, HD video of the Mars Curiosity Rover's landing on Mars. And below, an image of her first drive.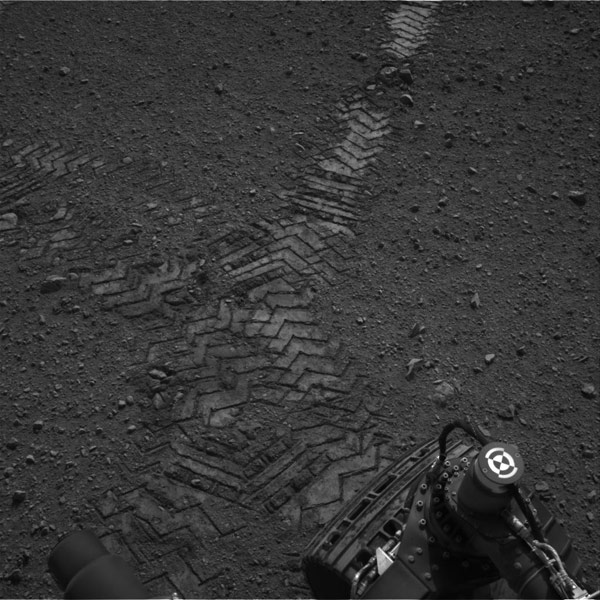 Update 3: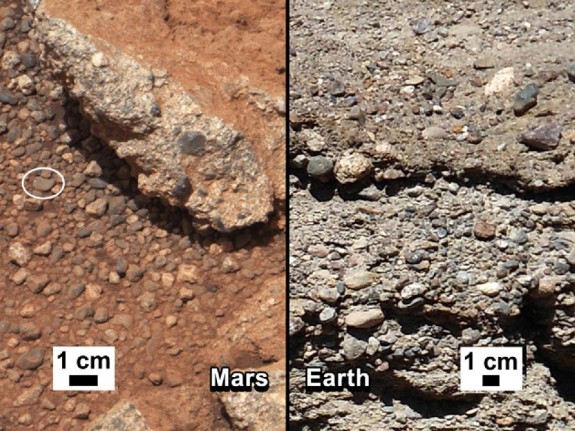 Yesterday, NASA announced that the Curiosity rover had documented geology that looks very much like an alluvial fan and rocky deposits that also look very much like what would be left in an alluvial fan on Earth. You can see the comparison of some of those in the image above. In these Martian geological features — as in an Earth-bound stream bed — you find smooth, rounded pebbles and conglomerates, masses of pebbles cemented together over time. The rocks photographed by Curiosity are also too large to have been blown into this sort of arrangement by the wind.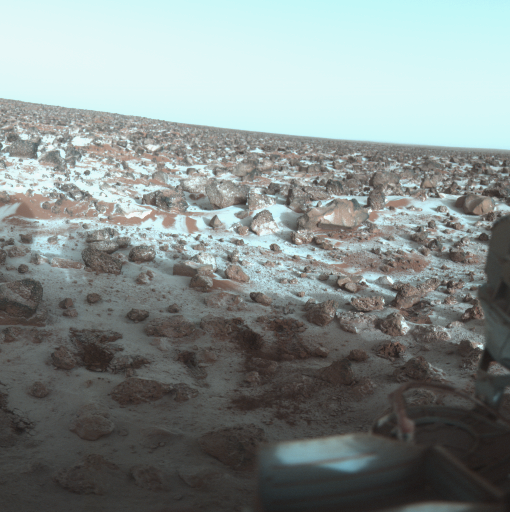 Previous probes have measured a small amount of water in the Martian atmosphere, and the planet's polar regions contain both frozen carbon dioxide and frozen water. Viking 2 took pictures of frost on the ground in the late 1970s, and in 2008, the Phoenix lander literally dropped out of the sky onto a patch of ice.
Update 4:
This video clip shows the first Martian material collected by the scoop on the robotic arm of NASA's Mars Curiosity rover, being vibrated inside the scoop after it was lifted from the ground on Oct. 7, 2012.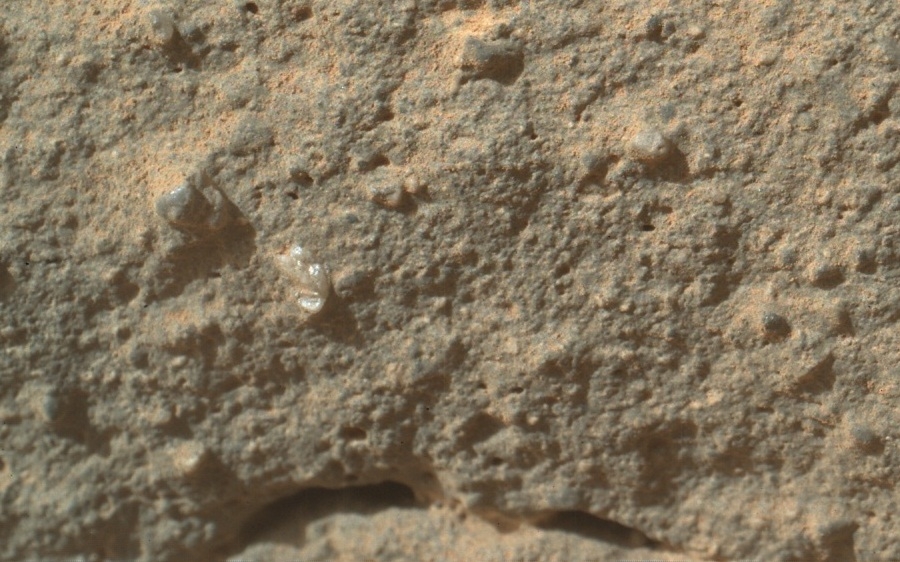 A bright and interestingly shaped tiny pebble shows up among the soil on a rock, called 'Gillespie Lake'...
But what really matters is what the team is finding out about this region, as those rounded grains provide a clue to the history of this area.
"They've been knocked around, they've been busted up," said Yingst. "They've been rounded by some process.
This suggests that flowing water helped form this rock.
The rover has also found water-deposited mineral veins that fill fissures in the rocks, such as in the image below.
The rover has imaged a small metallic-looking protuberance on a rock. Visible in the image [below], the protuberance appears to have a high albedo and even projects a shadow on the rock below.
Above: A closeup of the shiny protuberance.
The test was performed on a patch of flat, vein-bearing rock called 'John Klein', which observations suggested had once been weathered by water erosion.
'Pre-drilling observations of this rock yielded indications of one or more episodes of wet environmental conditions,' Nasa said.
'The team plans to use Curiosity's laboratory instruments to analyse sample powder from inside the rock to learn more about the site's environmental history.'
Update 5: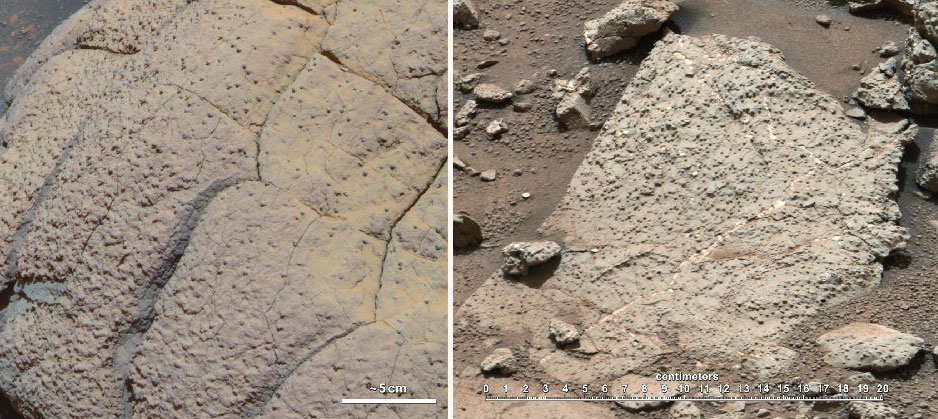 These images compare rocks seen by NASA's Opportunity rover and Curiosity rover at two different parts of Mars. On the left is " Wopmay" rock, in Endurance Crater, Meridiani Planum, as studied by the Opportunity rover. On the right are the rocks of the "Sheepbed" unit in Yellowknife Bay, in Gale Crater, as seen by Curiosity.
An analysis of a rock sample collected by NASA's Curiosity rover shows ancient Mars could have supported living microbes. Scientists identified sulfur, nitrogen, hydrogen, oxygen, phosphorus and carbon -- some of the key chemical ingredients for life...
Update 6:
NASA's Mars rover Curiosity is parked in "safe mode" again after being laid low by a software bug.

NASA said yesterday that the rover is stable and in communication with engineers. Curiosity hit safe mode when a command file failed a size check by its software. Engineers have since figured out that a software bug appended an unrelated file to the data, causing the command script's size to differ from what was expected.

"This is a very straightforward matter to deal with," said Richard Cook, project manager for Curiosity. "We can just delete that file, which we don't need any more, and we know how to keep this from occurring in the future."

NASA expects this glitch to take a couple of days to sort out as well, but the agency will be keen to get the rover back on its feet before 4 April, when Curiosity will be out of touch for four weeks.
Update 7: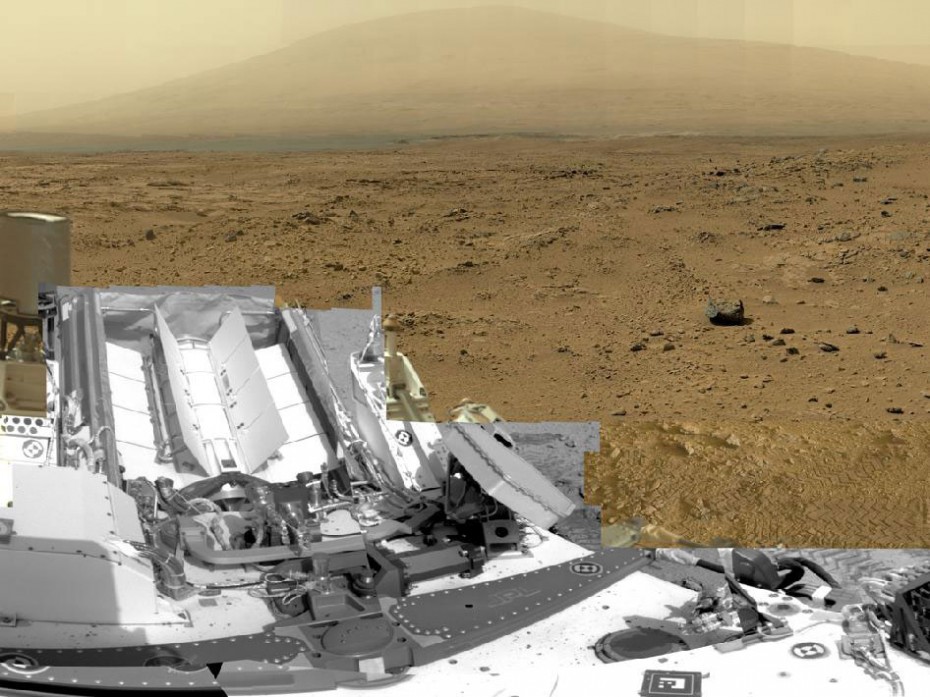 Update 8: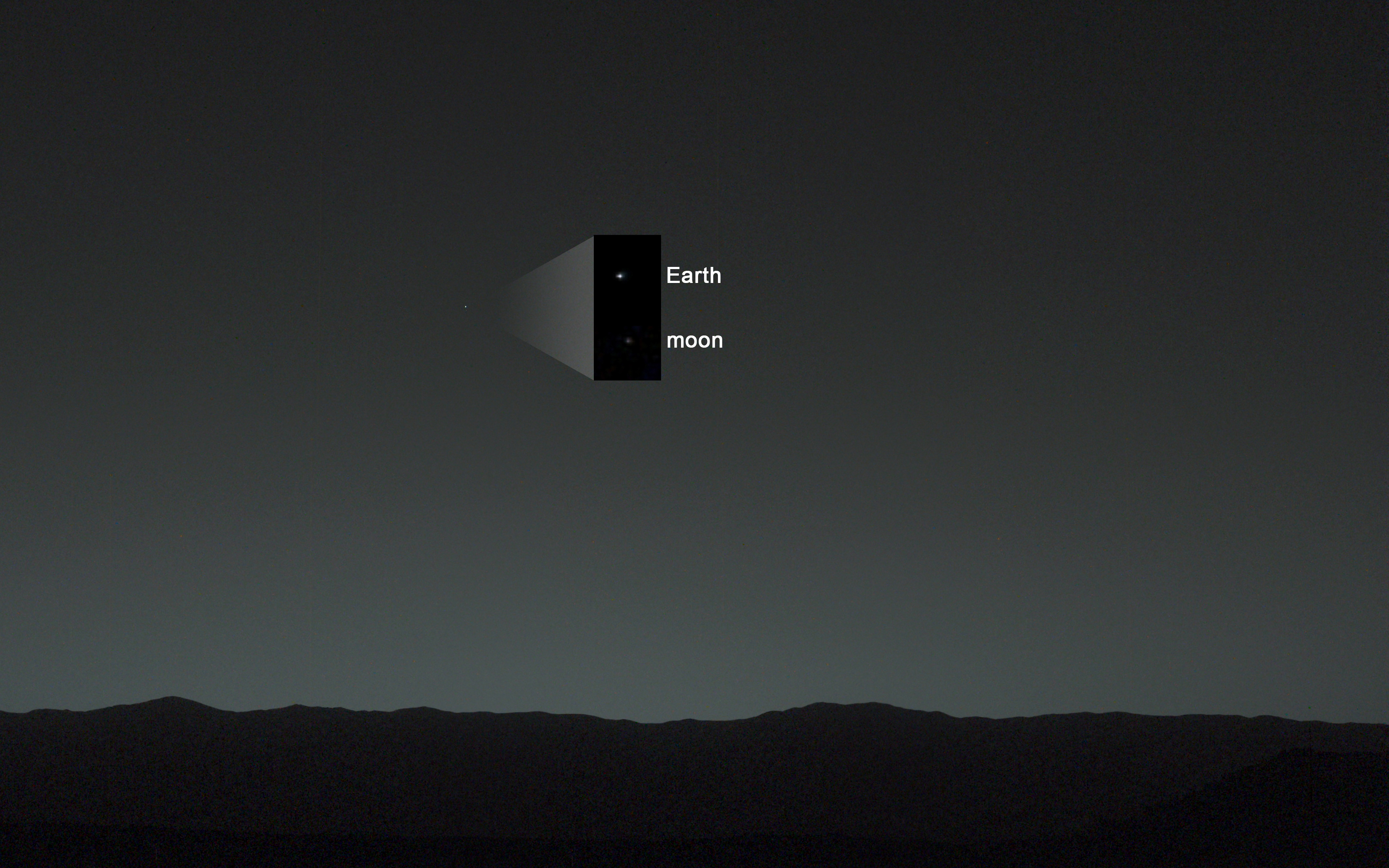 NASA's Jet propulsion Laboratory has published the first image of the Earth and Moon taken from one of the camera systems aboard the Curiosity rover.

While the primary focus of the rover is downward at the Martian soil, and occasionally drilling below its surface, Curiosity's controllers at JPL will be spending more time looking up this year. Besides the Earth shot, the rover (and NASA's other Martian hardware) is on standby to observe the passing of comet Siding Spring in October as it skims 86,000 miles (138,000 kilometers) over Mars, spraying debris as it goes.
Update 9:
Update 10:
A set of three observations with the orbiter's High Resolution Imaging Science Experiment (HiRISE) camera shows Beagle 2 partially deployed on the surface of the planet, ending the mystery of what happened to the mission more than a decade ago. They show that the lander survived its Dec. 25, 2003, touchdown enough to at least partially deploy its solar arrays.

Beagle 2 hitched a ride to Mars on the European Space Agency's long-lived Mars Express mission. It was a collaboration between industry and academia designed to deliver world-class science from the surface of the Red Planet.
Update 11:
New findings from NASA's Mars Reconnaissance Orbiter (MRO) provide the strongest evidence yet that liquid water flows intermittently on present-day Mars.

Using an imaging spectrometer on MRO, researchers detected signatures of hydrated minerals on slopes where mysterious streaks are seen on the Red Planet. These darkish streaks appear to ebb and flow over time. They darken and appear to flow down steep slopes during warm seasons, and then fade in cooler seasons. They appear in several locations on Mars when temperatures are above minus 10 degrees Fahrenheit (minus 23 Celsius), and disappear at colder times.

These downhill flows (seen above), known as recurring slope lineae (RSL), often have been described as possibly related to liquid water. The new findings of hydrated salts on the slopes point to what that relationship may be to these dark features. The hydrated salts would lower the freezing point of a liquid brine, just as salt on roads here on Earth causes ice and snow to melt more rapidly. Scientists say it's likely a shallow subsurface flow, with enough water wicking to the surface to explain the darkening.
Update 12: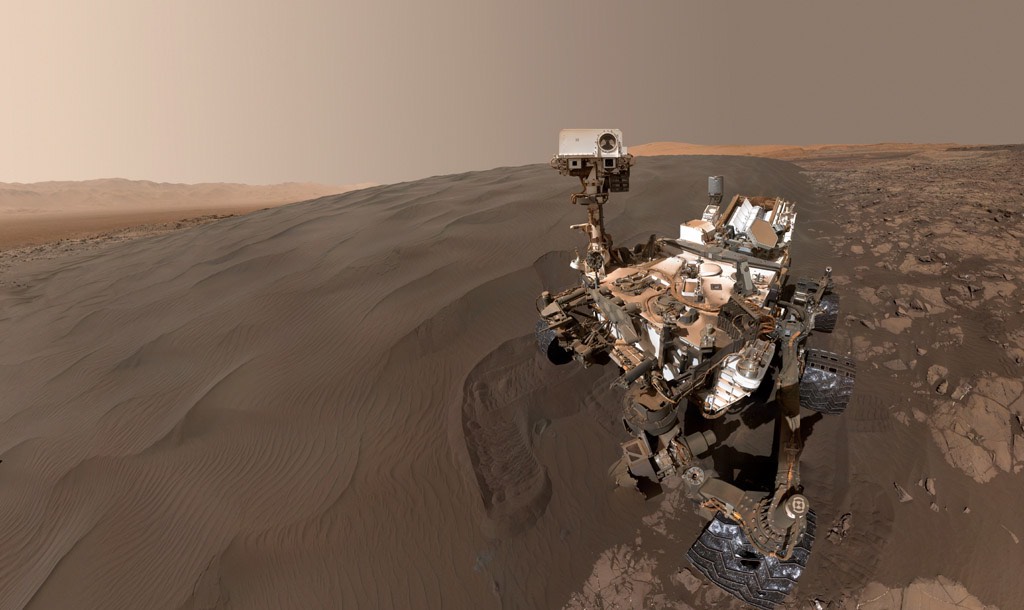 Curiosity is taking selfies while it runs diagnostics on a malfunctioning actuator.
The mission's examination of active sand dunes -- the first ever studied up close other than on Earth -- is providing information about active dune processes in conditions with much less atmosphere and less gravity than on Earth.

One part of the dune investigation is to view the same location repeatedly to check for movement of sand grains caused by wind on Mars. If movement occurs, the team can use the rover's wind measurements to figure out the strength and direction of the winds that caused the movement.

During processing of the third sample [of sand], an actuator in the sample-processing device did not perform as expected when commanded.

While diagnostic work progresses, the team is continuing to use the remote-sensing instruments on Curiosity's mast and environmental monitoring instruments.
Update 13:
NASA are releasing thousands of 4k
images
taken by their Mars Reconnaissance Orbiter HiRISE.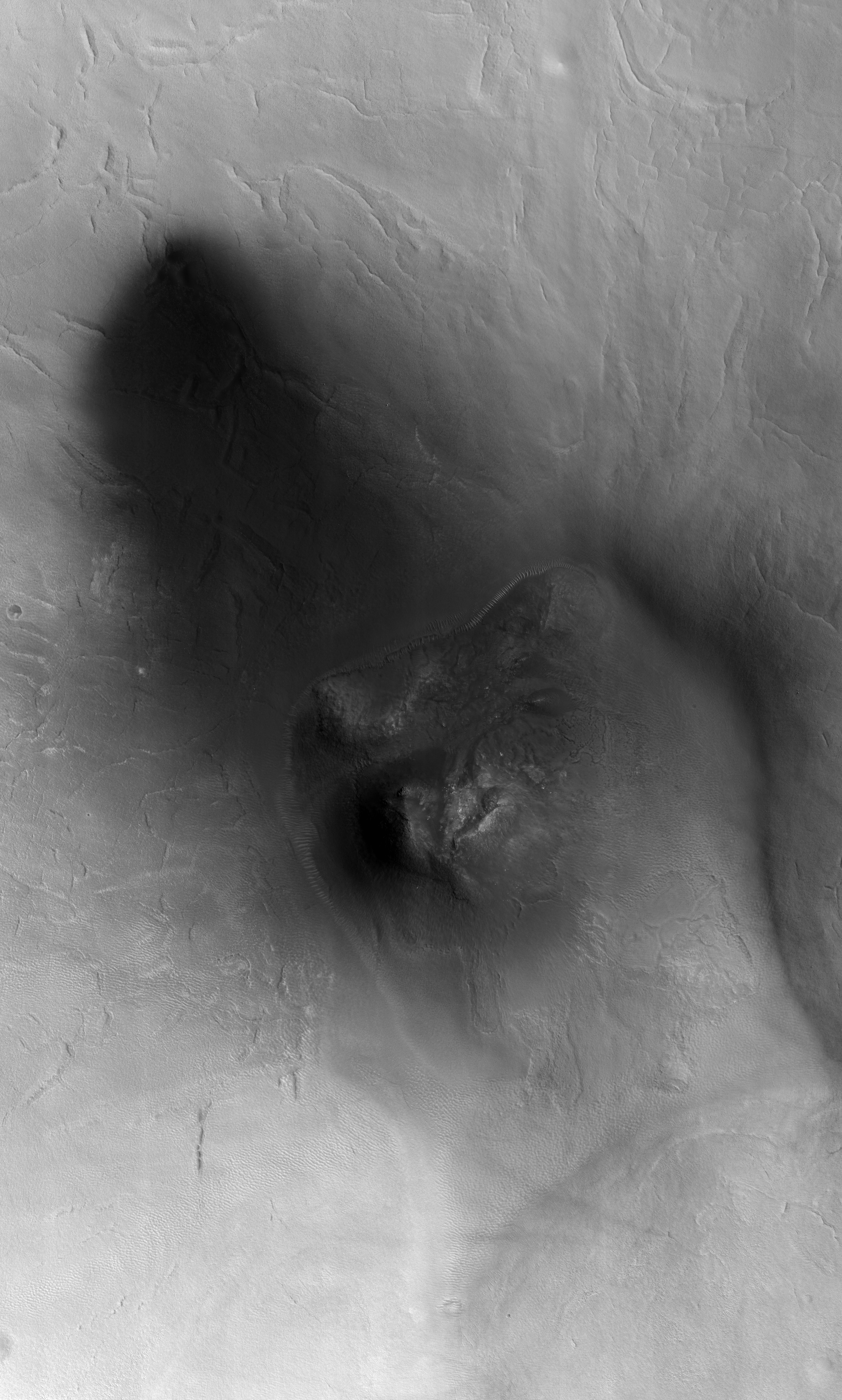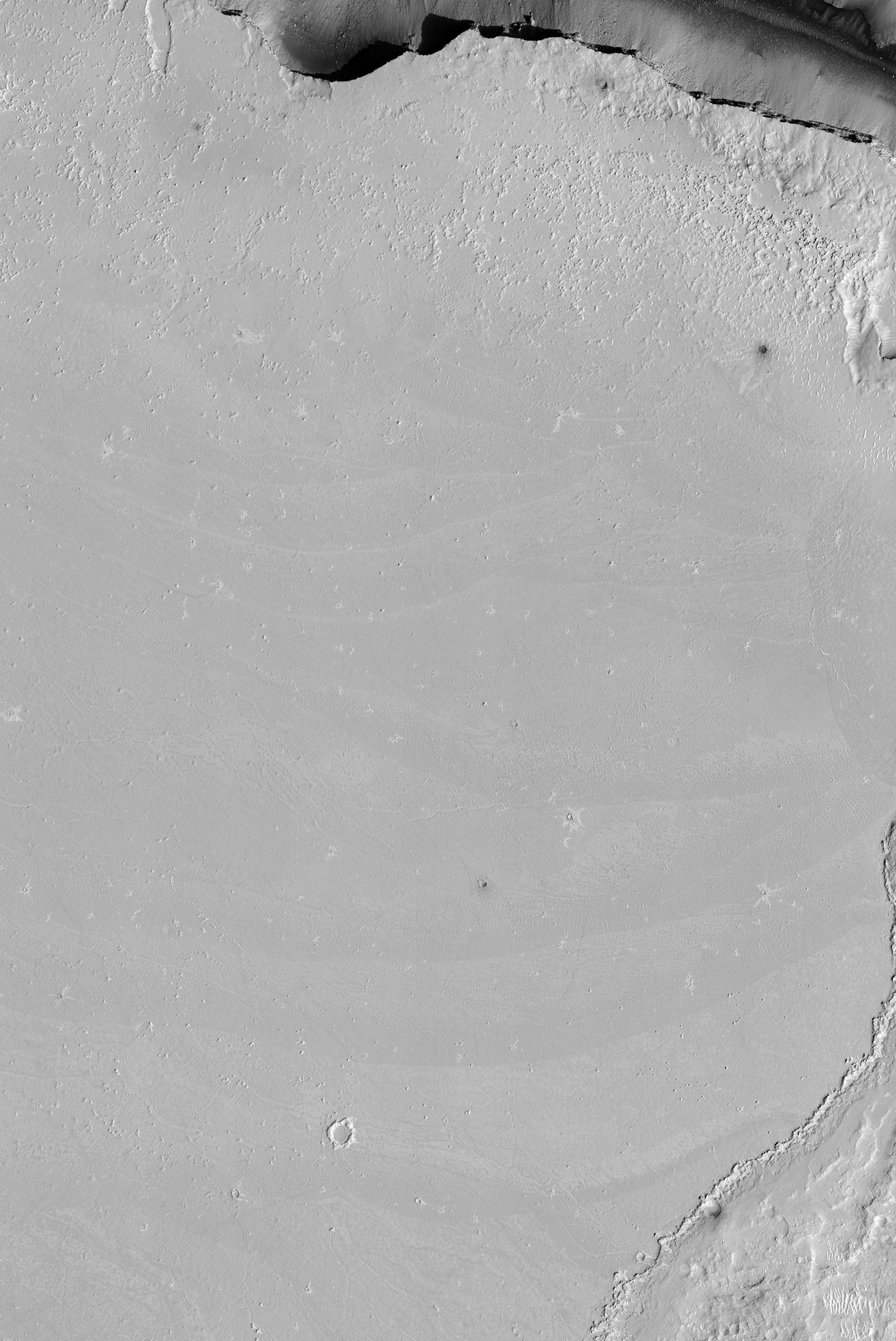 Update 14:
The Martian buttes and mesas rising above the surface are eroded remnants of ancient sandstone that originated when winds deposited sand after lower Mount Sharp had formed.

"Studying these buttes up close has given us a better understanding of ancient sand dunes that formed and were buried, chemically changed by groundwater, exhumed and eroded to form the landscape that we see today," Vasavada said.

The new images represent Curiosity's last stop in the Murray Buttes, where the rover has been driving for just over one month. As of this week, Curiosity has exited these buttes toward the south, driving up to the base of the final butte on its way out. In this location, the rover began its latest drilling campaign (on Sept. 9). After this drilling is completed, Curiosity will continue farther south and higher up Mount Sharp, leaving behind these spectacular formations.
Update 15:
Video from :
vimeo.com
The anaglyph images of Mars taken by the HiRISE camera holds information about the topography of Mars surface. There are hundreds of high-resolution images of this type. This gives the opportunity to create different studies in 3D. In this film I have chosen some locations and processed the images into panning video clips. There is a feeling that you are flying above Mars looking down watching interesting locations on the planet. And there are really great places on Mars! I would love to see images taken by a landscape photographer on Mars, especially from the polar regions. But I'm afraid I won't see that kind of images during my lifetime.
Update 16:
Using the most powerful telescope ever sent to Mars, NASA's Mars Reconnaissance Orbiter caught a view of the Curiosity rover this month amid rocky mountainside terrain.

The car-size rover, climbing up lower Mount Sharp toward its next destination, appears as a blue dab against a background of tan rocks and dark sand in the enhanced-color image from the orbiter's High Resolution Imaging Science Experiment (HiRISE) camera. The exaggerated color, showing differences in Mars surface materials, makes Curiosity appear bluer than it really looks.

The image was taken on June 5, 2017, two months before the fifth anniversary of Curiosity's landing near Mount Sharp on Aug. 5 PDT (Aug. 6, 2017, EDT and Universal Time).
MSL have released a paper documenting the success of the AEGIS software which allows Curiosity to autonomously run experiments while waiting for manual directives.
AEGIS lets Curiosity pick its own targets on which to focus its ChemCam, an instrument that first vaporizes Martian rocks with a laser and then studies the resulting gases. AEGIS does so after analysing images captured by Curiosity's NavCam, which snaps stereo images, and also using ChemCam's own Remote Micro-Imager context camera. Once it detects a worthy target, ChemCam puts the nuclear-powered space tank's laser to work eliminating Martian pebbles.

The paper says AEGIS now goes to work after most of Curiosity's short drives across Mars, and "has proven useful in rapidly gathering geochemical measurements and making use of otherwise idle time between the end of the drive and the next planning cycle." 54 slices of idle time to be precise, as that's the number of occasions on which Curiosity's had enough juice to run it.

The software is making good assessments of what to zap and sniff: the paper says "in a number of cases [AEGIS] has chosen rock targets which were among the same ones that were independently ranked highly by the science team for study." The result is better-targeted work, as Curiosity was previously set to do blind targeting "at pre-selected angles with respect to the rover, without knowing what it would find at that position post-drive." Now it's focussing in on outcrops, a desirable target.

AEGIS is also finding interesting stuff, with the paper saying its autonomous observations "have in several cases resulted in discoveries that prompted further analysis by the mission."
Update 17:
Scientists for the first time have confidently identified on Mars a collection of carbon molecules used and produced by living organisms.

That does not prove that life has ever existed on Mars. The same carbon molecules, broadly classified as organic matter, also exist within meteorites that fall from space. They can also be produced in chemical reactions that do not involve biology.

But the discovery, published on Thursday by the journal Science, is a piece of the Mars puzzle that scientists have long been seeking. In 1976, NASA's two Viking landers conducted the first experiments searching for organic matter on Mars and appeared to come up empty.